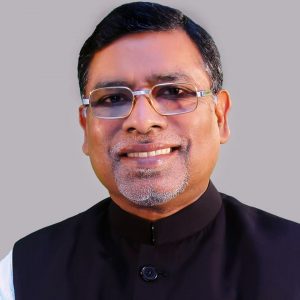 Mr. Zahid Maleque,
Minister for Health and Family Welfare,
Government of the People's Republic of Bangladesh
H.E. Mr. Zahid Maleque, MP, Honourable Minister, Ministry of Health and Family Welfare was born on 11th April, 1959 in an esteemed family in Manikgonj district. His father, late Col. A Maleque (Rtd.) was an acclaimed politician & social worker and was Mayor of Dhaka City Corporation and Minister, Ministry of Textile & Jute and was the member of Advisory Committee of Bangladesh Awami League. His mother's name is Mrs. Fouzia Maleque.
As a candidate of Bangladesh Awami League Mr. Zahid Maleque was elected as a member in the National Parliament election in 2008 from the constituency Makikgonj-3. During that period, he played vital role as a member of parliamentary standing committee for the Ministry of Foreign Affairs and the Ministry of Industry.
In 2014 Mr. Zahid Maleque was again elected MP in the 10th National Parliament Election from the same constituency. On January 12, 2014 he was appointed as the State Minister, Ministry of Health and Family Welfare.
In the last election of 11th National Parliament, held on December 30, 2018 he has been reelected as a member of parliament for consecutive third time from the same constituency.
On January 7, 2019 Mr. Zahid Maleque took oath as a Minister for Ministry of Health and Family Welfare.
Mr. Zahid Maleque obtained Masters Degree with Honours in English Literature and Language from University of Dhaka. Besides politics, he is actively involved in various social welfare services. He played a pioneer role in establishing different educational, religious and social development institutions in Dhaka and Manikgonj. He is an eminent entrepreneur. He served successfully as the chairman of Bangladesh Thai Aluminum Ltd., Sunlife Insurance Co. Ltd., BD Thai Food and Beverage Ltd., Rahat Real Estate and Construction Ltd., BD Sunlife Securities Ltd. from 1984 to 2014.
He has initiated 'Colonel Maleque Medical College Hospital in Manikgonj, Mr. Zahid Maleque has lead the development work in Manikgonj. Some of the mentionable projects are: 1) 250 Beded District Hospital, 2) Medical Assistant Training School (MATS), 3) Institute of Health Technology, 4) Manikgonj Diabetic Hospital, 5) Agriculture Training Institute, 6) Bridges, Roads and Rural Electrification.
At present he is working relentlessly to establish a service-oriented dynamic health sector. He has contributed significantly in ensuring good governance, Transparency and introducing efficiency in health services management.
He is proud father of three children. His spouse's name Mrs. Shabana Maleque.
The following are the list of welfare organizations which were established by H. E. Mr. Zahid Maleque: 1) Col. Maleque High School, 2) Col. Maleque Govt. Primary School, 3) Fowzia Maleque Govt. Primary School, 4) Zahid Maleque Govt. Primary School, 5) Maleqia Ashraful Ulm Madrasa, 6) Isatunnesa Forkania Madrasa, Nobograom Pourasova, Manikganj, 7) Zarina Khanam Jame Mosque, Garpara, Manikgonj.
Details (CV)Profile Minister English PDF Download